How many types of Honeycomb Die Cutting Machine are there?
Author:Site Editor Publish Time: 2020-09-17 Origin:Site
Honeycomb paperboard brings great benefits to our life.Various honeycomb paperboard are widely used in everyday life.Honeycomb die cutting machine, which produces honeycomb cardboard, is also a variety of cutting machines. This article will introduce how many types of honeycomb die cutting machine are there.

The following knowledge points are listed below:
Uses of honeycomb die cutting machine
Function heads of honeycomb plate cutting machine
Types of honeycomb plate cutting machine
1. Uses of honeycomb die cutting machine
Honeycomb paper cutting machine adopts pneumatic system and modern control to realize the cutting of paperboard.A design method based on software analysis is proposed, that is, the dynamic simulation analysis is carried out after the model is established, the aerodynamic control design based on Fluid sim-p is completed, and the finite element analysis of honeycomb paper cutting process is finally completed.At present, the honeycomb die cutting machine has been applied to the production line of honeycomb paperboard processing and achieved good results.
Honeycomb paperboard is the paper after the uncoiling, through the mechanism, regular glue on a cut a layer of honeycomb paper all the paper shadow paper core butt paper core stretch on the side of glue, on the paper, the honeycomb paper under a composite heating a pressure to finalize the design, cooling a cut and so on.In front of the facade glue sequence is the production of honeycomb paper core, using honeycomb machine paper core made of honeycomb paperboard has a high strength, volume can be produced packaging cartons, such as building materials, storage pallets.But in the existing in the production of honeycomb cardboard, paper on both sides of the honeycomb paperboard core complex, often appear in the cardboard "gas" phenomenon, the bubbles in the hexagonal honeycomb wrapped up not only make honeycomb cardboard surface uneven, ugly appearance, also seriously affected the quality of our products and the bubble surface separation, honeycomb paper and paper core is not suit, but a foreign object collision, can produce rupture and fall off.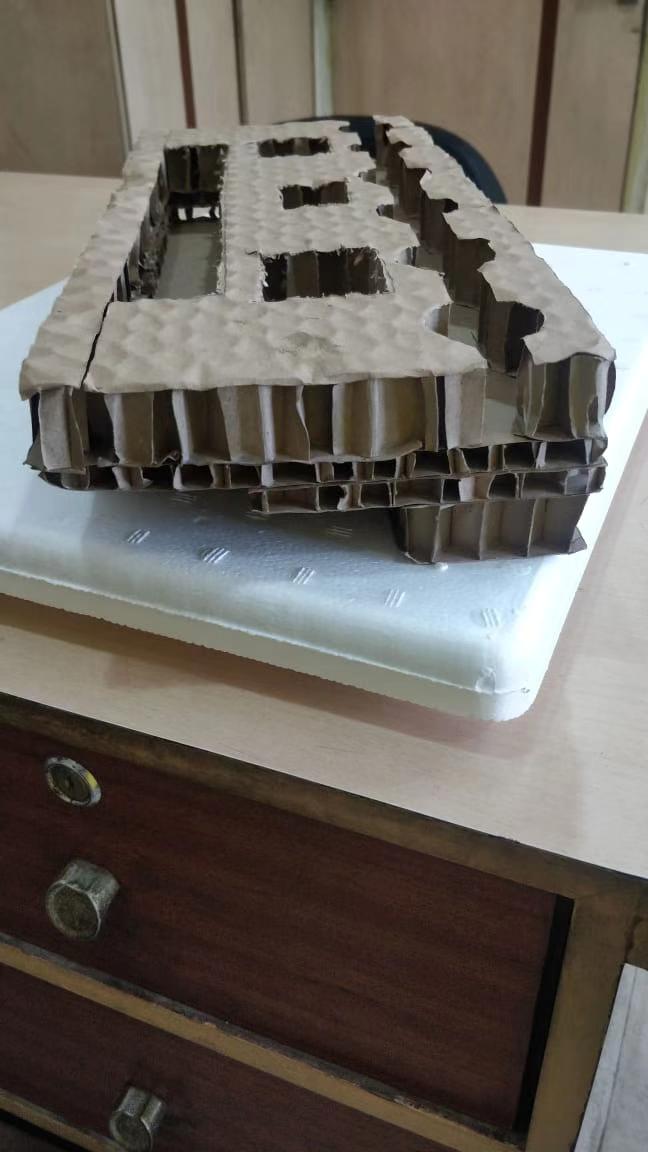 2. Function heads of honeycomb plate cutting machine
The honeycomb plate cutting machine can be equipped with four cutting heads: vibrating cutting head, pressing and folding line wheel, v-shaped cutting head and high speed milling cutter head.Honeycomb board cutting machine can cut or 50mm honeycomb board, acrylic board, corrugated paper, plastic corrugated board, gray board paper, white paper, film, composite materials, leather, cloth, plastic board, pearl cotton, aluminum plastic board and foam KT board and other materials.
3. Types of honeycomb plate cutting machine
(1) The v-cutting system can cut five v-shaped slots with different angles, such as 45°, 30°, 22.5°, 15° and 0°,which can complete line drawing, drawing, text marking, indentation, half cutting, full cutting one time.
(2) Honeycomb plate cutting machine with rolling conveyor belt, continuous cutting, seamless to meet the production objectives of less batch, more orders, more styles.
(3) Programmable multi-axis motion control, stability and maneuverability to reach the leading technical level at home and abroad cutting machine transmission system using imported linear guide rail, rack, synchronous belt, cutting precision fully to the origin of zero error.
(4) The honeycomb plate cutting machine is equipped with emergency stop device and safety infrared ray induction device in the four directions of the fuselage to meet the safety considerations of the honeycomb plate cutting machine at home and abroad.
Honeycomb plate cutting machine has a set of advanced and rapid replacement of knives with unparalleled diversity, according to the needs of a variety of processing materials, configuration of different knife head, simple and fast.
Our company specializes in manufacturing various honeycomb plate cutting machines. If you need a honeycomb plate cutting machine, please contact us.